It seems such a long time since I last posted, but I know its not really, its just that my life seems to be getting fuller and fuller.
Anyway, I thought you might like to see a couple of photos of the fairy quilt now that its finished and will be going back to it's owner tomorrow. I hope they are good enough for you to see it properly on here. I keep saying that I have to get a better camera in the studio with better lighting, but other things keep taking priority. Anyway, here they are.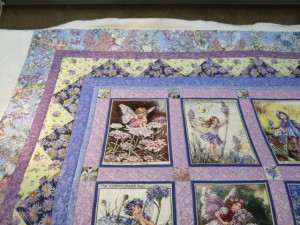 The final border is full of feathers, I hope you can see them ok.
I recently posted about the goodies I got from the Houston show courtesy of friend, well today I put a Linus quilt on the frame and had a play. Its a sunbonnet sue quilt, so the appliques have all been stitched around and the border done in a funky spiky stitch and then I thought I would try out a couple of the templates so decided to do a few hearts with feathers a-la Jamie Wallen.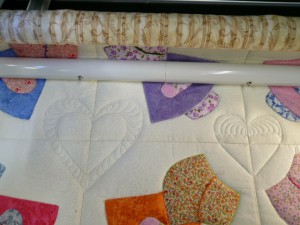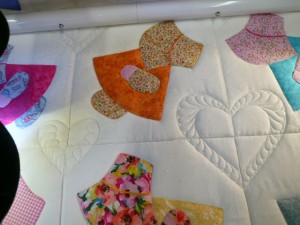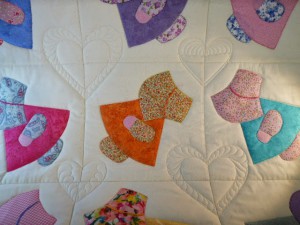 I am going to do a lot more yet and the background filler but really enjoying playing with them. Hope you like them as much as I do. I will fancy them up even more when I put them on a different one with a bit more space, but for now, these will do fine. I am sure who ever receives it will love it. Until the next time …