Where does time go just lately.  I seem to be asking that question a lot recently.  There has been so much to do.  I will try and give you a bit of an insight.  As you are all probably aware, recently the Festival of Quilts was held at the NEC in Birmingham, and I had a quilt entered into the Quilters Guild Challenge.  But before I could go there I had to make sure I was up to date with customer quilts as I had to deliver two of them on the way to the show.  I was also taking the family out for the day to Whitby, a place I have never been to before but had heard so much about.  I have to say I thoroughly enjoyed the visit, and even had a paddle in the sea which was very cold but very enjoyable as the sun was out.  (Does this count as my ice bucket challenge – no – oh well, it was worth a try. ) As you know from my previous posts, I was to spend 4 days at the FOQ demonstrating the Handiquilter Avante longarm quilter at the Cotton Patch stand.  We were situated in line with the main entrance and this is what we saw every morning waiting to come in.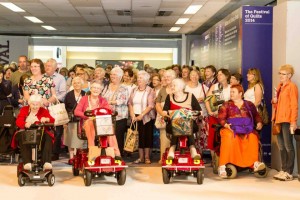 Hundreds of eager shoppers under starter's orders.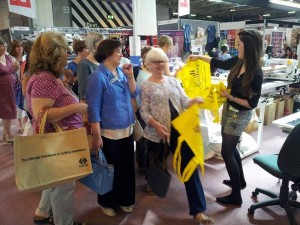 When the flag went up we then had the bag rush.  2 boxes of bags gone in the first 5 minutes every day.  That's a lot of bags and a lot of people. It was a brilliant few days, although my feet took some time to recover.  I met some wonderful people and met up with quite a few friends.  And although I didn't get a place with my quilt it certainly received a good deal of interest and the comments I received were fantastic, even from the Guild hierarchy, which was great. After 4 days at the Festival it was back to work for a week to do another couple of quilts that had to be delivered the following week on my way to a course with the wonderful Kim Brunner who was over from the US and holding a course at the Cotton Patch.  The obligatory selfie had to be taken. Well you just have to don't you.
Another busy week with lots of input and then get together's with friends just after class, it was quite mind blowing.  But it was so enjoyable and I met with friends I had met on previous courses and friends from Facebook groups, and it felt as though we had all known each other for years. Then back to work again.  I  have two very large quilts to do next, but first I had to complete a challenge set by a friend which originated from Lisa Calle.  It is to produce a small wholecloth in a fabric known as Radiance which is a silk and cotton mix and very slippy to work with.  Each of us has a different colour and my friend has arrange that they all be shown at different shows around the country all next year, so look out for them.   This is the start of mine.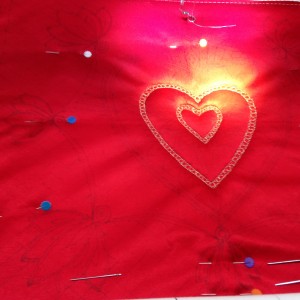 It took a while to get it all drawn onto the fabric but I think it was worth it. Here it is ready to take off the frame tomorrow, trim, bind and then add the bling.  Not too much as it has a lot of gold thread on there, but it has to have some, it is a red heart after all.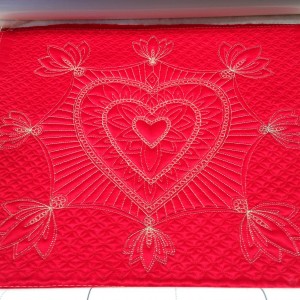 So all of that and my normal home life as well.  I think I need a holiday, but don't have the time.  I will post a picture of the heart when it is completed tomorrow and then its onto the next one. So until then, keep quilting and keep safe out there.