Well today I thought I would do something a little bit whimsical and decided to quilt a little embroidered piece that I have had done for a while and which I intended to make into a cushion cover for a child. So I marked it up and set of with it.
Anyway, not too long after I had this. I hope you can see it ok as I am holding it up suspended on a pole by one hand with the camera in the other. I am going to put the back on next time I go into the studio.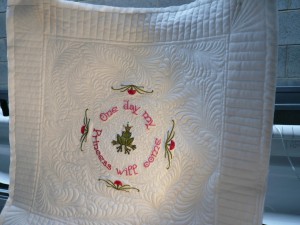 I have two other panels of totally different designs that I am going to do a similar thing with so keep your eyes open.
Till then, keep sewing and keep happy.