I know I have been quiet lately but like the proverbial swan I have been paddling furiously in the background.  I have been busy with customer quilts and I have been trying to keep a secret.  Until Now.
I am so excited to tell you that I am now officially the Handi Quilter Educator for The Cotton Patch in Birmingham.  How cool is that.  I can't wait to get started.
My first appearance will the at the Festival Of Quilts to be held at the NEC next week.  I will be on  stand C21 showing  demonstrating the Avante, so if you are coming to the show, pop along and say hello.
This is a link to The Cotton Patch facebook page which makes the official announcement.
https://www.facebook.com/TheCottonPatchUK?fref=ts
We have loads of things that we want to do in the future and are currently putting together a list of educational programmes and events, and I will keep you posted as to what and where they are going to be.
In the mean time I thought I might show you some of the latest customer quilt which is fresh of the frame today and is being delivered to its owner next week.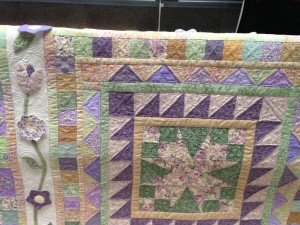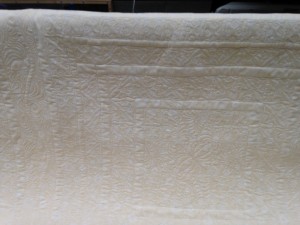 This was all hand pieced and the owner had started to quilt it herself but decided it was too much, so first of all it had to be skinned (taken apart) and then I could get it loaded onto the frame and get it quilted.  I love the way it has turned out.
I am going to be busy over the next few days, but will try and update you from the show.  Oh and don't forget to check out my quilt if you get there.
Until then, keep safe and keep quilting.