Sorry I haven't been here for a few days now, but things tend to get very busy with me around this time of year due to the number of clubs etc that I am involved with. I have also recently been away recently with one of my sons and my lovely mum. We went with a group of people on a coach trip and visited Salford Quays on the way to the hotel. On Saturday we spent a lovely day in Chester. The buildings are stunning, very old ornate. They are the olde worlde version of the modern shopping center, each store has another store above it with its own walkway. The only problem was the number of steps to the upper levels as there were no escalators, especially when they were built, (not good when you need a hip replacement).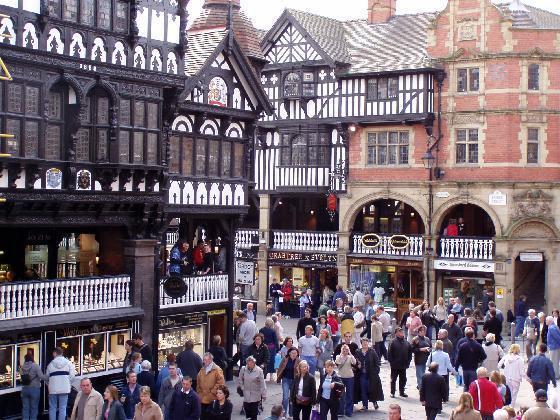 Many of the buildings had decorative carvings which would make lovely quilting patterns. I will definitely be going back again, but not at christmas as it would be nice to have a really good look around without being jostled.
On Sunday on the way home we went to Liverpool, but I can't say I would like to go back there again, too many tall buildings made it feel very oppressive. No nice quilting patterns on them either 🙁
Talking about quilting, I have just finished doing the swirly one for my son. He didn't want much doing to it so the whole of it has been stitched in the ditch and the outer border has had a bit of decorative stitching put on it using triangles and piano keys. We discussed putting something in one of the swirl colours but then decided that it would look odd so decided to leave them blank. I will get a few photos tomorrow and post them so that you can see them. After this one is bound I will be doing a couple more charity quilts and one large one that will then be raffled or auctioned to raise funds for the charity.