I would like to take this opportunity to wish you all a Very Happy New Year and hope this year bring you nothing but happiness.
Before this year ends I thought I had better do what I promised and let you see a couple of photos of my sons quilt now that it is finished. This is the border, which I feel compliments the rest of the quilt with its very angular pattern.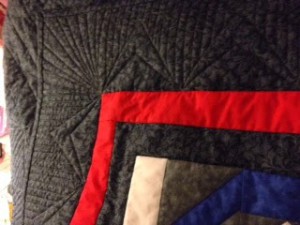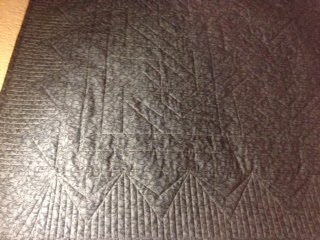 This is the back, the colour makes it a bit awkward to get a good picture of it but I think you get the idea. If you remember my son wanted it lightly quilted so that it was still 'cuddly' so it was decided to stitch in the ditch only and do a border to compliment it. I think it works and he loves it. The quilt is 96″ x 96″ so not small and at the moment he only has a single bed! He has plans though as he intends to keep it and use it when he has his own place and a larger bed. Love it.
I have managed to get into the studio yesterday and decided to do a little charity quilt just to get my eye back in after the Christmas break and before the new year begins. This is a top created by someone else and donated to Linus who's area rep then put in the pile to be quilted. I just dip into it, bring it home, and quilt them when I have the chance. I currently have a really big one that has obviously taken someone a lot of time to do and they have then donated it, which is a lovely gesture. I am going to go to town on that one and it will then be auctioned or raffled in order to bring in funds for the charity.
I digress however, so back to the original little quilt.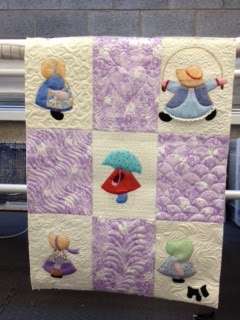 I did a lot of different styles on this one just to get myself back into the flow. So we have stipple, heart template embellished, free motion swirls and hearts, ruler work, grid work, paisley, a variant on Mc Tavishing and free form feathers. I still have to add a little dog lead and bind it and then its done. It can then go on the completed pile ready for my next visit to the store.
Well that's it for 2013. It had been a trying year on a personal note for me, and I have no doubt that this is going to continue into 2014 for a variety of reasons, but that is what life is all about. I suppose if we didn't have these 'life challenges' sent to us we might all get very bored, although some we could all do without. At some point in the next year I will be having a hip replacement which will put me out of action for about 6 weeks as far as driving is concerned so I will only be able to get to the studio by taxi but I will get there 🙂
But after that I should be fine for short drives, which it is, and then I can extend my driving time. It is my clutch leg so will have to build it up bit by bit. After that, well, watch this space. I have a few plans that I want to put into action that I think you will like. Until then, once again I wish you all a Very Happy and Prosperous New Year. Take Care. 🙂