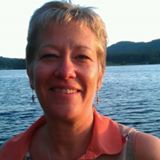 I am so proud to tell you all that in addition to running my own Longarm quilting business, I am also the UK authorised HandiQuilter Educator and work closely with Pinhole Quilting , where I hold a number of lessons each year, together with demonstrations at the major quilting shows around the UK.   I also hold a number of private lessons in the studio for those who prefer one to one tutoring.
I have been sewing and crafting and quilting in one way or another for more years than I care to remember, ever since I was a small child.
After spending 30 yrs in the service of the public, I retired to what I thought was going to be a quiet life, but then I started sewing even more, increasing the number of machines, the amount of fabrics, and quilt tops that needed quilting.  It soon became obvious to me that I needed a professional quilting system and took the plunge and bought my Longarm system.
However, like most people in the UK, our homes are not built to house a large longarm system. So after much encouragement from friends and requests from others to quilt their tops, I took the plunge to turn my hobby/obsession/love into a business.
As a result I now find myself in my own studio with a 12′ long HandiQuilter Avante 18 longarm quilter with Pro-Stitcher and I am surrounded by an ever growing stash of fabrics and goodies, some of which are for sale on here. The studio means I can meet customers to discuss their needs and I can take classes for those wanting to learn or further their skills.
I have won a number of awards, all of which can be seen proudly displayed in my studio, including Best Longarm Quilting, 1st Bed Quilt, 1st Machine Embroidery,  Best of Show, Visitors Choice and Honourable Mention in the World Quilts Competition.