Well I promised to keep posting on here so here I am.  I said I would catch up with some of the quilts I have been doing so here is the first one.  This one was for a lady in Spain and was a race against time.  Unfortunately the lady that owns this one had cancer and told me she did not have long left to live.  She wanted to be able to finish it as she was doing it for her Husband.  This is a large quilt and it was requested that it have simple custom quilting on it so as not to take away from the colours used.
This is how it started out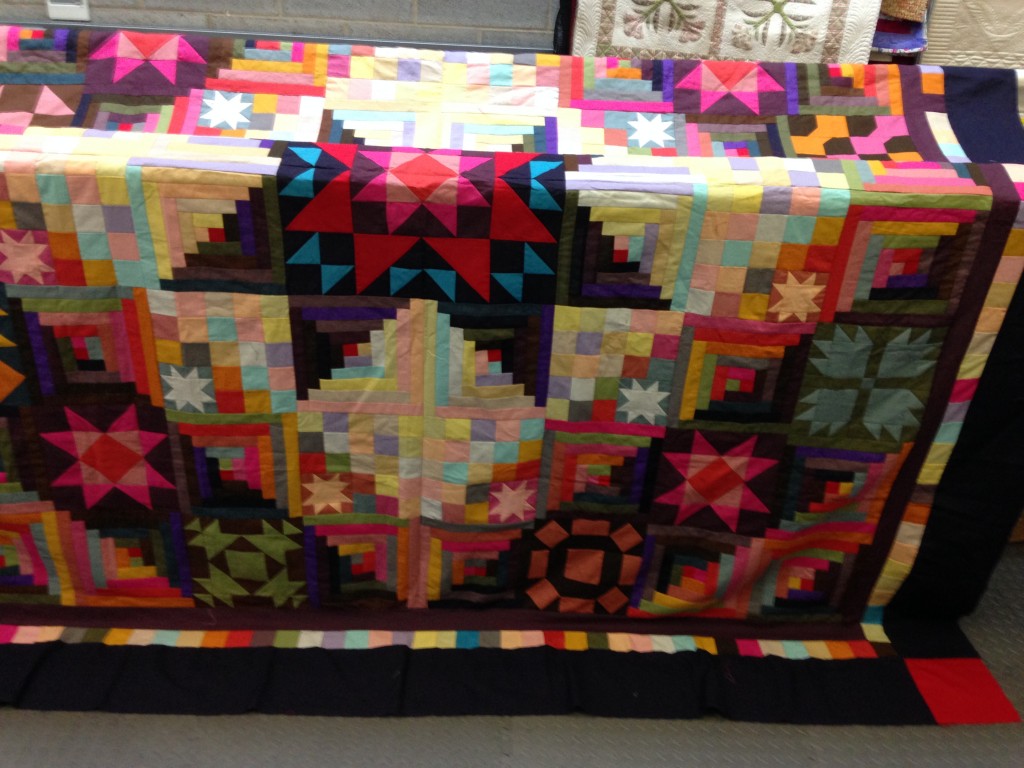 And this is how it finish up.
This is the back.
I sent the customer photographs and she was delighted.  I sent it back to her but haven't heard anything else.  I know that she is probably not with us any more but I often think about her and her husband and hope he get some peace from knowing that he is wrapped in love when uses it.
I also said I would take you through some of the processes I went through when producing the Cappuccino quilt.  Why am I doing this? Well when it was on show I stood listening to some of the comments that were being made about it and heard a number of people saying things like 'oh well its lovely but its all computerised isn't it.'  Well no, it's not, not one bit of it.  So I had to jump in and correct them and spent ages telling lots of interested ladies just how it was done.  I feel its important that anyone attending shows appreciates the work that has gone into every quilt on show, and that includes those done with the aid of computer, as it is not as easy as many people think.
So, here goes.  The quilt is embroidered with Simon Haskins embroidery designs, each one of which took up to 5 hours to stitch out.  So that was the first hurdle, getting them all stitched out.  The fabric is Robert Kaufmans Radiance which is a silk/cotton mix with a lush sheen to it.  Lovely material but not easy to piece with as it frays like the devil.
So once all the embroideries were done and the top pieced it was time to decide what to do with it. (about 96 hrs of work so far)
First of all each and every petal and leaf has to be stitched around and all of it stitched in the ditch to stabilise it before any of the fancy schmanshy things could be done to it. (about another 45 hrs)
This is when you start to wonder about your own sanity, it all seems such a great idea until you look at the number of hours spent on it so far and look at all the work yet to be done.  Oh well, onwards and upwards, so now to decide what to do on the blocks.  Time to get out the pencils.  This is when I start to play with designs.  The drawings are all to scale so that I get a proper feeling for how they will look.
Once the draughts are done, I then have to draw them out on a plastic sheet and lay them on the quilt to make sure they will look ok but also to make sure that it fits nicely behind all of the different embroidery layouts in each block.  This is when you really see what will and will not work.  You will note that none of these made it through. (approx 12 hrs over a few days)
Once I am happy with this, the next bit of hard work starts, marking each and every block ready for quilting.  More about that next time, but I hope you can see, just how much hard work goes into these, and just because we have longarm quilting machines does not mean that it is all so much easier.
Stay safe out there and keep quilting

Lynda